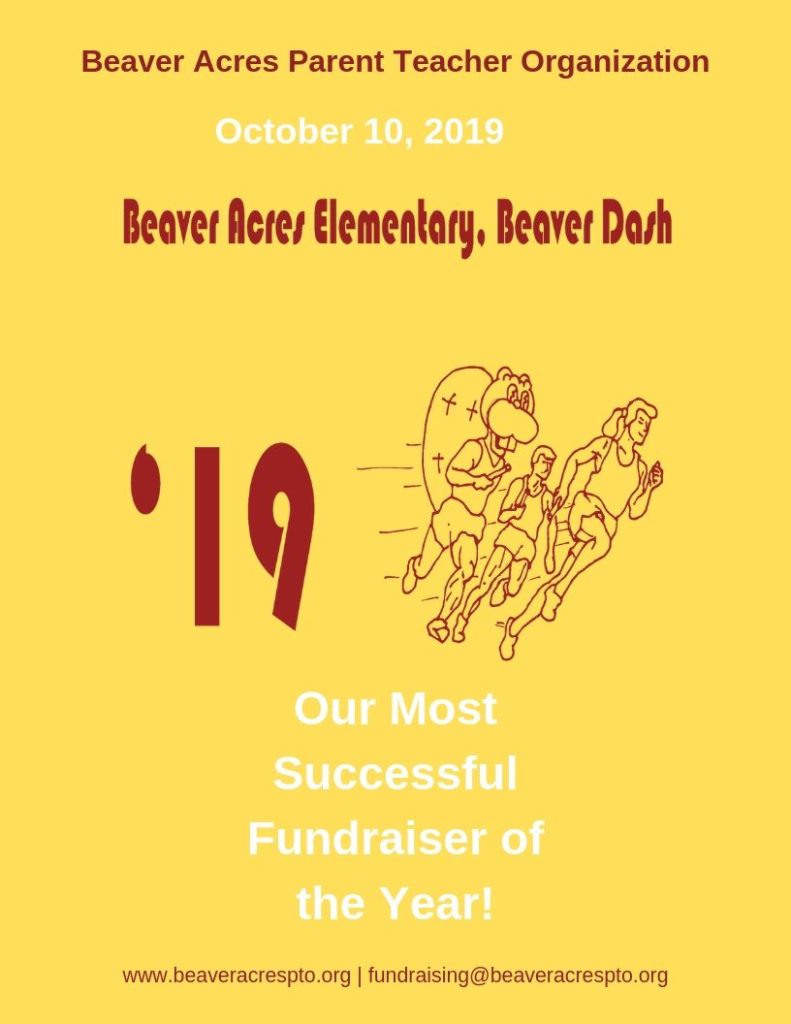 HOW DOES THE FUNDRAISING PORTION OF THE BEAVER DASH WORK?
Students are encouraged to ask family and friends to sponsor them running the dash. Sponsors can either pledge a flat donation (ex. $10) or per lap (ex. 50 cents per lap). If they pledge per lap you would wait to collect their donation until after the dash. On average, each student runs about 25 laps, so a 50 cent donation would would be $12.50 (based on 25 laps). Actual lap count may vary.
There are two ways to donate, online through Pledgestar: http://www.pledgestar.com/beaveracres or by collecting donations and turning them in to your child's teacher. Directions for pledgestar can be found here https://www.beaveracrespto.org/wp-content/uploads/2019/10/Dash-Jog-A-Thon-Online-Registration-Instructions-1.pdf.
You will need to register yourself on Pledgestar and then you can send out requests via email. Donors can send in checks to the school directly or pay with a credit card through paypal. Either way, if you receive checks please make sure they are payable to "Beaver Acres PTO". 

The Dash takes place on Thursday, October 10th and donations are due back to the school by Tuesday, October 22nd to be eligible for prizes. Please turn in any cash or check donations in your Dash envelope to your teacher with the log stapled to the envelope filled out completely.

HOW DOES THE ACTUAL JOG-A-THON WORK?
On the day of the event (Thursday, October 10th), each class will run, jog, or walk for 20 minutes during a specified time period on our field. Each student will get a Beaver Dash shirt the morning of the event and will wear it for the dash. The shirt will be marked each time they cross the start line. Each classroom will be given a designated color wristband to wear to help track students and generate class spirit (there will also be boards with that color to designate where they started the dash and where they need to have their shirts marked).
Upon completion of the Beaver Dash, teachers will record how many laps each student completed and those numbers will be entered into the Pledgestar online fundraising system (parents can count the number of hash marks on the back of their student's shirt to know how many laps they ran as well). Students may then collect outstanding pledges & return their envelopes to the school.
Please make sure your student wears close toed shoes appropriate for running/jogging/walking and send them with a refillable water bottle as TVWD will have water bottle filling stations set up!
DO YOU STILL HAVE QUESTIONS?

Email Jen, VP Fundraising, fundraising@beaveracrespto.org
A Special Thanks to our Sponsors!

World of Smiles Pediatric Dentistry

OnPoint Community Credit Union Logo